Daisy 2003 Full Auto conversion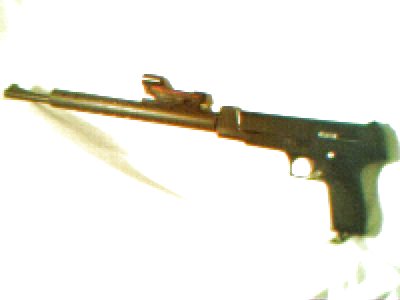 Click here for pics and info on my Daisy 2003 Hybrid



Here's the premise, a couple years ago I went to my local K-Mart and purchased a Daisy Model 2003 Semi-auto Pellet repeater, at the time I bought it for around $40, I got the pistol for taking out unwarry birds and squirrels in my back yard(and must say it worked wonders), this pistol has a 35 shot helical feed magazine and has a TRUE Blow back action(meaning the bolt cocks itself with the excess gas after each shot). Later I figured since the gun functions like a true semi-auto then it could easily be converted to full-auto, well after a bit of tinkering around I found out I WAS RIGHT, I was able to come up with a simple modification to convert the gun to fire full-auto............Skip a few years ahead.....Upon posting this story on Survivors SKS discussion forum(long story), it seems that an interest in these air pistols and a way to convert them to full auto has resurged, a couple days after the posting on the SKS board I dug out my pistol, ripped it apart, figured out how I converted it and drew up some plans from there, upon doing so I emailed these plans to a few individuals who were interested, well now it seems that maybye there's an even greater interest in this conversion, so this page is a reply to that demand.....Below you will find various texts and drawings that will aid you in converting this pistol to full-auto.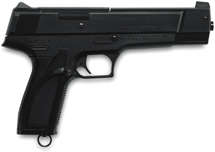 2003 Specs from Daisy airguns website

Model 2003 - $66.95

Another Daisy first. This is the first CO2 powered, 35-shot
pellet handgun ever offered. Features a removable, helical
clip, classic styling and velocities to 400 fps.

ACTION: Semi-automatic CO2
CALIBER: .177 (4.5mm) pellet
SIGHTS: Fixed blade front, fixed open rear
GRIP: Engineering resin construction with checkered grip and thumb rest
MAGAZINE: 35-shot helical clip
SAFETY: Crossbolt trigger block
BARREL: Rifled steel
MUZZLE VELOCITY: 400 fps.
MAX. SHOOTING DISTANCE: 224 yds.
OVERALL LENGTH: 11.7 in.
WEIGHT: 2.2 lbs.


Conversion Process


Note: In most states Airguns are not controlled by any laws which govern firearms therefore this conversion is completely LEGAL in MOST states, I have been informed that Airguns DO fall under firearms regulations in MA and IL, therefore attempting this conversion in those states may constitute a FELONY, please check your state and local laws regarding the legality of airguns before attempting this modification, failing to do so may get you a nice long stay in Club-FED! Also following through with this modification WILL void any Warranty you previously had on the pistol, you also take a chance of damaging it, which I cannot be held responsible for.

Before you get started the first thing you'll need of course is a Daisy Model 2003, the first place you'll want to check is your local K-mart, Wallmart, and Meijers stores, if they do not carry them try your local gunshop or sporting goods store, if you are having trouble finding one, here's a few links to companies selling 2003s over the net.

Daisy Airguns. Yep you CAN order them direct from Daisy!
B&B Sportsman Supply. They carry several airguns including the 2003.
KnifeCo Inc. Also carries a full line of airguns.
American Airguns Classified Ads. You can sometimes find used Daisy 2003s listed here.

Want to purchase a Daisy 2003 already converted to Full auto? Here's the place Steve Michaelsons Firearms.
Please contact Steve Michaelson directly at sgun@bigfoot.com to obtain availability and pricing info.

Here's some detailed instructions posted on subguns.com by Jay Bell, Read these first as they help familiarize you with the gun, and get a basic idea of what you're doing.
Click here to read Jays instructions

Here's the plans I drew up and some instructions to go along with them, these are a bit more detailed on the actual mechanics of the conversion and also offer enhanced mods to help prevent jamming and make the pistol a bit more reliable, I recommend you view these after you have read and fully understand Jays instructions.
Click here to view the F/A conversion drawing
Click here to view acompanying text and written instructions

Back home